ABOUT US
Over 70 years of meticulous crafting and expert engineering - Sub-Zero and Wolf have been relentlessly dominating the kitchen appliance industry with nothing but aspirations to bring you moments worth savoring at home.
"If you build a quality product, you will always have customers."
Westye Bakke Pioneer
THE ROAD LESS TAKEN
Westye Bakke packs up his wife and two young children, and moves to Madison, Wisconsin in search of better opportunity.
"I think he would be extremely proud of the strides we have made to expand his vision of differentiating our products through quality, design innovation and technology..."
Jim Bakke President, CEO
OPPORTUNITY KNOCKS
Frank Lloyd Wright, father of American Architecture Modernism, hires young Westye Bakke to help design custom refrigeration for his designed homes.
"When my grandfather started the business in 1945, his strategy was to build the best, highest quality refrigeration."
Jim Bakke President, CEO
BABY STEPS
Westye turns his Madison basement into a lab for developing his own refrigeration designs.
"When my grandfather started the business in 1945…It was always on quality, making a fair profit, and keeping customers."
Jim Bakke President, CEO
FRESH START
Westye launches Sub-Zero Freezer Company, introducing the first system for preserving food at ultra-low temperatures. Literally sub-zero.
"Everything we do, we do first-class, along with that, I think it has a lot to do with the pride we have in this company."
Mark Swartz Quality Assurance
A REIMAGINED KITCHEN EXPERIENCE
No more fishy ice cubes. Sub-Zero pioneers dual refrigeration - separate, sealed systems for refrigerator and freezer - and invents the built-in category.
"It's not just a company that manufactures and sells products, it's about the quality and the detail that we put into the product."
Diane White Marketing
ENVIRONMENTAL AWARENESS
Sub-Zero leads the way in making energy-efficient products. Today, the average Sub-Zero consumes less energy than a 75-watt light bulb.
"The biggest value that my grandfather and father instilled in the company, cornerstone of Sub-Zero, that is that we're a quality organization."
Jim Bakke President, CEO
UNCOMPROMISING EXCELLENCE
Our aim is true. While other brands' temperatures fluctuate widely, Sub-Zero's award-winning 500 Series nails it within 1 degree for superior food preservation.
"We've kicked a lot of risks along the way, especially with the Integrated line. It was a product that didn't even exist in the industry before."
Diane White Marketing
SEAMLESS SPACES
Hey, where's the fridge? Revolutionary integrated designs, another Sub-Zero first, make refrigeration blend seamlessly into the décor.
"I think the biggest thing I've learned is that we always have to have innovation in our blood."
Jim Bakke President, CEO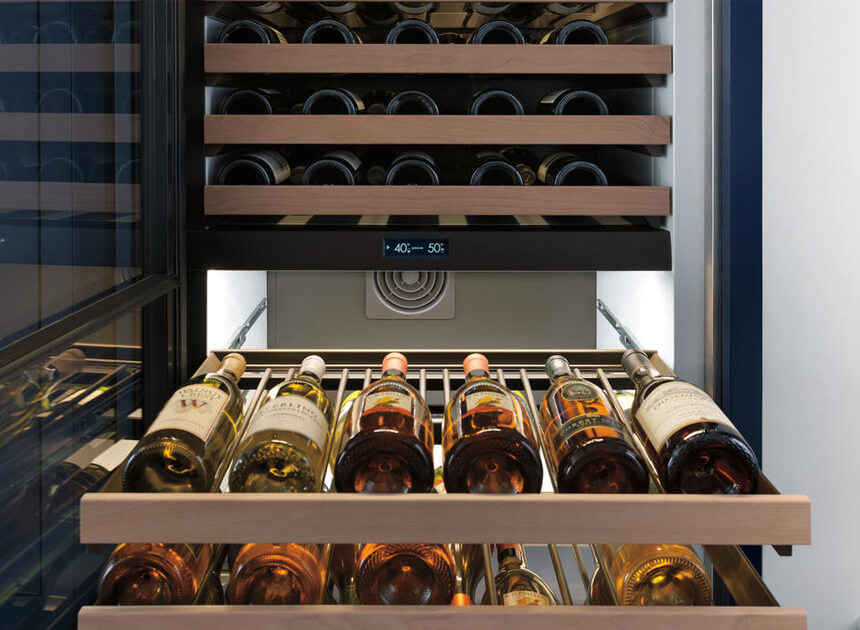 WHITES AND REDS
Cheers! Sub-Zero uncorks the first wine storage system that protects wines from UV light, vibration, and improper humidity.
"Jim's made a lot of terrific decisions. He's had to take some major risks in 2000 when he decided to go after and purchase Wolf…I think that's really helped us become the leader of appliances that we are."
Mark Swartz Quality Assurance
POWER COUPLE
Sub-Zero acquires the residential side of commercial kitchen legend, Wolf. Two specialists, now corporate companions and kitchen soul mates.
"Throughout the years, I've seen different models come through, getting better, staying ahead of the refrigeration market."
Patrick Davis Assembler
LIMITLESS CHOICES
Wolf introduces its first dual fuel range: gas cooking above, dual convection electric ovens below.
"We always need to keep our products moving forward, ahead of the competition…That's what makes our future so bright."
Jim Bakke President, CEO
RELENTLESS INNOVATION
Sub-Zero introduces an antimicrobial air purification system patterned from NASA technology. It scrubs air of mold, bacteria, viruses and ethylene gas.
"They put it in our heads that we're the best. They drive it. What drives me is making it better."
Raymond Martinez Foamer Assembler
BEYOND BAKING
World's smartest oven? Wolf's convection steam oven amazes. Crusty steam-baked loaves. Leftovers rejuvenated to just-made deliciousness.
"We always are raising the bar. We always are challenging each other to do the very best that we possibly can."
Mark Swartz Quality Assurance
NEW GENERATION APPLIANCES
The biggest new-product rollout in the company's history. New technologies. New décor possibilities. New ways to use refrigeration, absolutely anywhere!
"All of our design and engineering are aimed at meaningful innovations that contribute to the life of the home."
Jim Bakke President, CEO
THE VIEW FROM THE TOP
Now global brands with more than 30 showrooms in the US and over 25 abroad, Sub-Zero stands more vibrant than ever under third generation Bakke ownership.